Baby Brayden Signing - Thank you for my birthday present!
by Erin Keith
(Bettendorf, IA, USA)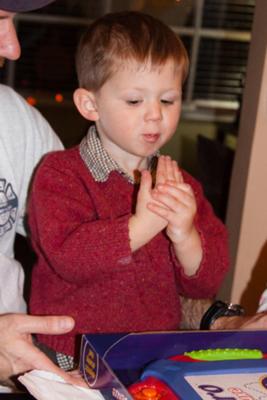 Telling MeMaw & Aunt Sean thank you for his birthday present in toddler sign language.

Your first name (or initials): Erin

Your darling's first name (or initials): Brayden

Your darling's age: 2

The baby sign(s) that your sweetie is using in the photo: Thank You!



Babies and Sign Editor says: Erin, thanks for such a great baby (toddler) sign language photo of Brayden signing, "Thank You"!

Great job, Brayden! Send us photos any time you'd like to show us and other grateful parents!

How inspiring!

This photo will also be added into the baby signing contest of the month to win a free baby sign language DVD! Stay tuned, by joining our baby signing RSS feed updates or joining our baby sign newsletter! :-)

Happy Signing to all!