Baby Sign Language Alphabet Poster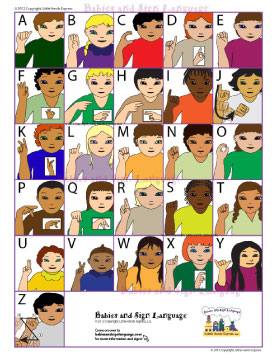 Help your little one learn the American Sign Language Alphabet using this custom illustrated, detailed chart from Babies and Sign Language!
Each panel shows a clear illustration of a letter and anatomically correct hands, so you don't have to follow funny-looking cartoon fingers. Where needed, you'll see additional insets showing unusual finger positions.
This poster is available in either full-color or black-and-white. It is immediately delivered in PDF format, digitally, so you don't have to wait for shipping.
---
© Babies-and-Sign-Language.Com. 2006 -