Baby Sign Language Animal Signs Poster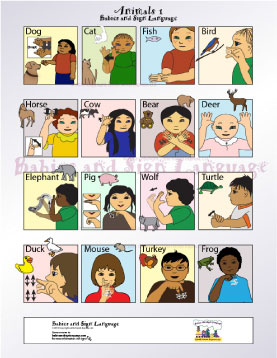 Teach your baby or toddler baby sign language using this custom illustrated, detailed chart from Babies and Sign Language!
Each panel shows a clear illustration of a common animal using anatomically correct hands. Small pictures of each animal are included on the panels to help associate the sign with the animal.
This poster is available in either full-color or black-and-white. It is immediately delivered in PDF format, digitally, so you don't have to wait for shipping.
The signs in this poster are:
Dog
Cat
Fish
Bird
Horse
Cow
Bear
Deer
Elephant
Pig
Wolf
Turtly
Duck (shows a real duck and a rubber duckie)
Mouse
Turkey
Frog
---
© Babies-and-Sign-Language.Com. 2006 -