Baby Sign Language Survival Signs 1 Poster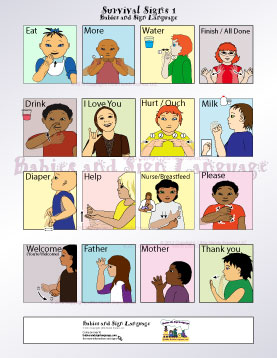 Use this poster to help your baby or toddler baby learn to sign basic vocabulary in sign language using this custom illustrated, highly-detailed chart from Babies and Sign Language!
Each panel shows an illustrated child signing a useful ASL sign. Each sign is shown using anatomically correct hands.
This poster is available in either full-color or black-and-white. It is immediately delivered in PDF format, digitally, so you don't have to wait for shipping.
The signs in this poster are:
Eat
More
Water
Finish / All Done
Drink
I Love You
Hurt / Ouch
Milk
Diaper
Help
Nurse / Breastfeed
Please
(You're) Welcome
Father
Mother
Thank you
---
© Babies-and-Sign-Language.Com. 2006 -