Baby Sign Language Blog - Infant and Toddler Signing Updates!
Infant and Toddler Signs Updates!
Our Babies and Sign Language site is constantly being updated with new pages of highly useful information and great tips just for you and your little baby signer!
Anytime a new page is created, or our free baby sign language dictionary has been updated - it will be posted here on this page.
Just check here and you'll be sure to find it easily!
Keep up with our new updates simply!
Please also remember that it's simple to join our RSS updates!


Signing with Adopted Children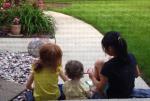 I have read so many articles about the benefits of signing for many different populations: infants, children, those with special needs, those desiring