Baby Signing Helps Learning Manners Before Talking
by Cassidy Morris
(McKinney, TX)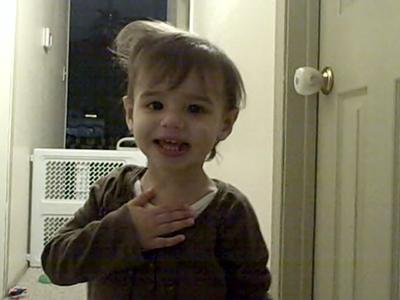 Baby and todder sign language for the sign "please"
My daughter is 20 months old. We have been signing since she was about 6 months old.

Already she has a signing vocabulary of 12 words including please and thank you.

So now when she wants something we ask her "What do you say?" and she will sign "Please" and then when she gets what she wants she says "Thank you" without us having to tell her anything.

I love teaching her to sign!! It is such a joy to watch her learn and also watching her incorporate what she learns in her daily life.


Note from Editor: Thank you, Cassidy, for your story and photo! Your little darling is absolutely adorable!

And you are right, baby signing is an amazing tool to teach and reinforce manners in our little ones who are learning it all for the first time.



Toddler Sign Language Books
Bilingual Signing Books and DVDs
Join in and write your own page! It's easy to do. How? Simply click here to return to Do You Sign with your Toddler?.