How to Deal with Skeptics When Utilizing Baby Sign Language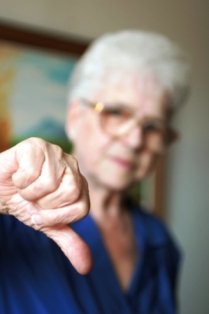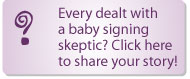 It is important to know how to tell others working with your Child about Baby Sign Language. There are many people very skeptical about teaching an infant how to sign. They believe that teaching babies sign language will cause them to not learn how to talk. This is not true, but you will find yourself having to explain this over and over again. That's all right to do because it is worth the trouble.
You also need to tell others the specific signs your baby uses. If someone taking care of your baby doesn't realize the Baby Sign Language infant gestures are actually a form of communication, the gestures may be ignored. That would cause a lot of frustration and confusion for the infant if the gestures do not get a response.
Anyone actively involved in your child's life should understand why you are teaching Baby Sign Language to your infant. They should also be able to interpret at least the most basic gestures such as the signs for "hungry" or "pain". This will keep baby happy and hopefully prevent inexplicable crying rages due to frustration. The people who need to understand about teaching babies sign language include daycare workers, babysitters, grandparents, older siblings and any one else who may care for the infant or toddler.
Following is a list of what you want to tell the people in your baby's life (about baby signing):
1. Baby Sign Language develops language skills earlier than babies who never learn to sign.
2. Teaching babies sign language will greatly reduce temper tantrums or unexplained crying sessions, because the infant is able to communicate a need or want before being able to talk.
3. An infant who learns sign language develops larger vocabularies at an earlier age.
4. Babies who learn sign language develop recall skills that make them better performers at school later on.
5. An infants taught Baby Sign Language often develops a higher I.Q.
6. Baby Sign Language teaches babies about the concept of symbols and their use for communication.
7. Infant signing enables and encourages a child to share their thoughts and interests.
8. Baby signing enables a baby's brain to develop earlier that part of the brain controlling language.
9. Teaching babies sign language promotes earlier development of motor skills and coordination.
10. Research shows signing children are usually more interested in books.
11. Gesturing is already a natural form of infant communication.


Baby Signing Promotes Better Communication in Various Settings

There are so many good reasons for teaching babies sign language. Most people who are skeptical at first are soon won over quickly. The see the infant gleefully signing words and communicating what they want. Grandparents are thrilled to discover they can actually have a conversation with their grandchild.
Baby Sign Language can actually make a daycare worker's job easier, because they will quickly know what your infant wants or needs. There is no more need for second guessing what each infant needs. How can anyone not believe this is better than the display of unexplained emotions and frustrating reactions to unfulfilled needs?
Baby Sign Language can also allow special needs children a way to communicate with the daycare worker and other signing children. Other children often mimic a signing infant or toddler. This is a satisfying exchange between toddlers and children.
Baby Sign Language has critics, but their criticisms are not backed by the research. Teaching babies sign language has consistently resulted in better school performance in later years.
Ever had to deal with a baby sign skeptic or two? How did you deal with it?
Please share your baby signing experiences here!
Were you successful in getting others to cease the unsupportive talk on using sign language with your baby?
How did you do it?
Click here to see stories about how others have dealt with skeptics!

What Other Visitors Have Said About Dealing with Baby Sign Language Skeptics..
Click below to see baby sign language experiences from other visiting baby signers to this page...

More info on Baby Sign Language? Please also see: