We are Parents, How Do WE Learn Baby Sign Language?
Click here to see what other parents say!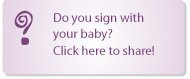 Once you decide as a parent to teach Baby Sign Language, your first question will probably be, "How do I learn Baby Sign Language first?!"
Obviously it's quite difficult to teach a language you don't yet know. It is important to understand that American Sign Language is a true language. A few gestures may be modified for lack of infant motor skills. So as a parent you will want to learn the proper way to form the gestures.
The good news is -- Baby Sign Language is not very hard to learn. There are a variety of tools available to help teach these signs:

There are sign language software packages available that help self-teach Baby Sign Language. These programs are run on the computer and usually come with supporting books and documentation.

You can purchase a sign language DVD or videos to run on the television or laptop. These are also self-teaching programs.

There are free ebooks available on the internet that you can download which contain pictures and explanations for Baby Sign Language.

There are also a large number of Baby Sign Language sites, which can be accessed through the free ASL web browsers. ASL browsers offer sites that teach true American Sign Language.

Some parents choose to attend parent Baby Sign Language programs offered at a private schools, YMCA's, community centers, and community colleges.

For the 'hardcore' - you can also learn ASL by attending a program for through government funded school programs, community colleges, and/or university classes.
Check this baby signing video out!


(Simply click the 'play button' in the middle of this video)


Additional ways of learning Baby Sign Language:
You can learn Sign Language working with an ebook, video or baby signing DVD. There are many learning tools that supplement these programs. These include signing flashcards and sign dictionaries.
When parents begin to learn Baby Sign Language, it's better to start with simple words and gestures. Choose the gestures you will first teach your baby. You can learn the gestures while teaching your infant at the same time.
Remember that it may take several weeks of signing before your infant will produce the first gesture so you have plenty of time to practice.
Try using the gesture along with the activity. For example, sign the word "milk" every time you give the baby a bottle of milk.
At the same time you gesture for the word "milk" also say the word out loud. This connects Baby Sign Language gestures and verbal skills development.
Continue to add simple words and gestures through practice.
It is pretty easy for parents to learn Baby Sign Language and begin teaching it almost immediately to your infant. Access the many support materials available and start right away!
The sooner your infant begins learning the signs and gestures, the sooner you will have that first early two-way conversation with your baby.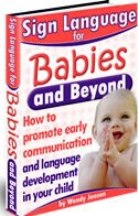 ---