Contest is over!! Thank you to everyone who entered!
Win This FREE My Baby Can Talk DVD & Baby Sign Language Board Book!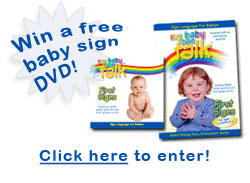 Enter today!
The Most Fun & Simplest, Contest on Earth! - Win simply by telling us anything you want to tell us about Baby Sign Language!
---
Yep, Just Simply Tell Us About Your Baby Sign Language Experience!
---
Baby Signing Stories - Some ideas:
Funny story about you're your baby, toddler, preschooler, grandchild, niece, baby cousin, etc.

Favorite Baby Signing Aid (Toddler Signing Book, Baby Sign Video, Baby Sign Language eBook(s), Flash Cards, Songs, etc) and why?

How you've dealt with a baby signing skeptic!

An inspiring story or memory that may help an unsure parent not to give up, for the rewards are just around the corner! Right? :-)

Skies the limit! As long as it's related to sign language and your little one!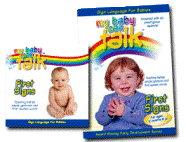 Click here for the contest FAQ for more information and rules
---
Contest begins August 6th - ends August 19th
Contest is over, thank you to everyone who entered!
Winners Announced August 23 2010 8am EST
---
Current Baby Sign Language Contest Submissions
See below to view other baby signing contest contributions from other visitors to this page...

For more info on this baby sign language contest, see the FAQ by clicking here...
To learn more about My Babies Can Talk Sponsor, please click here...
GOOD LUCK!!!