Helping Hands from a Big Brother (Sign Language & Cerebral Palsy)
by Jennifer Mitchell
(St. Louis, MO)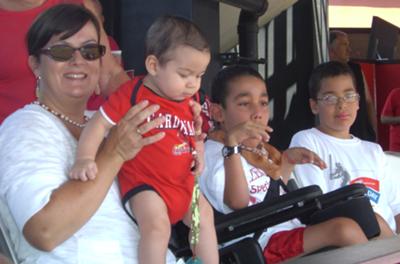 I have three boys, ages 12 years, 10 years and 6 months. I used basic signs with the 2 older boys when they were little with some success.
My oldest son has Cerebral Palsy and can't speak well; he is only able to say a few words like "more," "Daddy," and so on.
I have always told him, "If you can't say it, sign it!" Yet even that is hard to do much of the time because of his tight muscles.
Now that the 6-month old is starting to use language like lifting his arms up, reaching his hands out for objects and fussing, I asked my husband and older sons to start using "real" sign language with him.
At a baseball game last week, my mother-in-law was giving the baby some soft pretzel to gum on. The baby was fussing when it was almost gone and I said, "Gee, what do you think he wants?"
Right away 12-year old gathered his energy, brought his arms together and signed, "More! More!" and we all laughed! (But the baby only got one more piece!)
Return to Contest Share Your Baby Signing Story.