Baby Sign for Book


Using both dominant and non-dominant hands symmetrically in this sign is very important. Put the palms of your hands together, right facing left, and left facing right a few inches in front of the mid-chest. Your finger tips are pointing straight in front of you.
Keeping your pinkies and pinky side of your hands together, open your hands as if opening a book. You should finish with both palms facing up.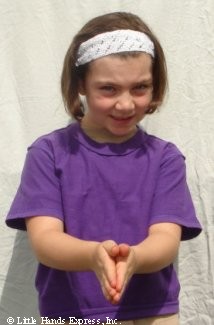 Slideshow image - please allow a few seconds to load.
Return from "Sign for Baby" to "Baby Signs Dictionary"
Return From the "Baby Sign Glossary" to "Baby Sign Language" home