Baby Sign for Cookie or Biscuit


In this sign, use both dominant and non-dominant hands. Your dominant hand's fingers are spread open, and then curled as if clutching a soft ball. Your palm faces the non-dominant side of your body. The non-dominant hand is flat and open with the fingers together, facing the dominant side. Bring the tips of the dominant hand's fingers to the flat surface of the non-dominant hand's palm.
Then, rotate the dominant hand across the surface of the non-dominant's palm, tracing a circular pattern. Repeat this motion back and forth a few times. This resembles cutting cookies with a cookie cutter.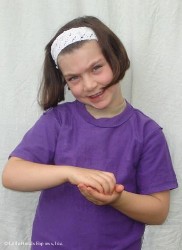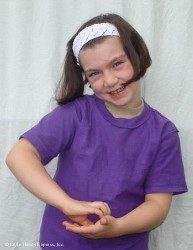 Slideshow image - please allow a few seconds to load.
Return from "Sign for Baby" to "Baby Signs Dictionary"
Return From the "Baby Sign Dictionary" to the "Babies and Sign Language" homepage