Baby Sign for Horse or Pony


Use both your dominant and non-dominant hands in this sign. Fold your pinky and ring fingers into your palm while leaving your thumbs, pointers, and middle fingers extended. Make sure your pointer and middle fingers are touching while your thumbs are pointing out to the side.
Now bring your thumbs up to your forehead and place them just above your temples with your palms facing the same direction you are. Last, fold your pointer and middle fingers into your palm and extend them out several times. This sign represents the ears of a horse.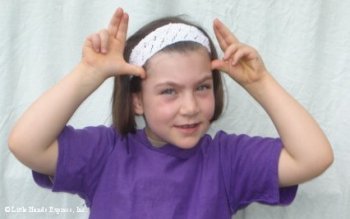 Slideshow image - please allow a few seconds to load.
Return From the "Baby Sign Language Glossary" to "Baby Sign Language" home