Learning to Sign - Baby Signing
by Tracy Gumfory
(Lancaster California)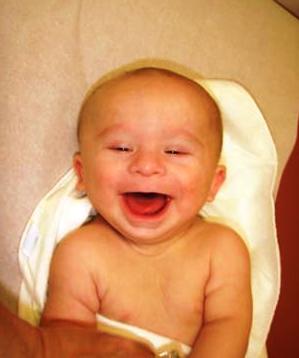 When we discovered at 16 weeks pregnant that our baby would have Down syndrome, I researched tirelessly.


Before long I came across multiple stories about parents teaching their babies to sign.

I bought a few videos and found an online site to teach myself and my 11 year old daughter and 7 year old son, but they were less than enthusiastic.

While standing in a long long one day, I noticed a toddler with a couple who were signing to each other. The toddler kept looking at my pregnant belly. I patted my tummy and did the sign for baby.

It wasn't long before the parents and I were engaged in a jerky conversation. They were conversational but my abilities to sign were still very limited.

They asked when the baby was due, was it a boy or girl, did we have other children, were there pets in the home, etc.

My daughter was so very amazed at the exchange between myself and this Deaf couple and their hearing child! She was no longer a reluctant learner when I pulled out the video and logged onto the website! She was on fire to learn signing!

Now that our baby is 9 months old, she will frequently ask me how to sign a word so that she can teach the baby!

It's great fun for her to learn a sign before I do! It's exciting to see your child crave learning, but to see your child want to teach a younger child is truly a beautiful thing!

That's my story! Our baby is not signing yet, but does understand the signs for Mommy and Sister.

He watches intently while we sign to him and then sticks out his hand so we can duplicate the motion with his hand.

We're trying to teach him the sign for Daddy, but he gets so excited to see Daddy that he only pays attention to his face!

We're going to try pictures of Daddy with the sign for Daddy...hope that works!
Comments for Learning to Sign - Baby Signing

Average Rating
Click here to add your own comments