Mason signing "food"
by Maly
(St Paul, MN)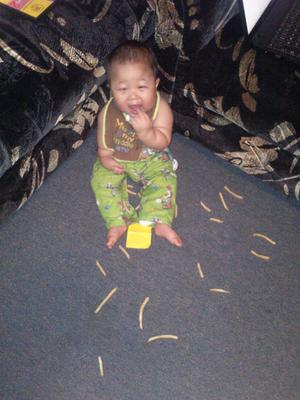 Mason signing
Mason has unilateral hearing loss, a tracheostomy tube, which prevents him from vocalizing, and was born with no thumbs on either hands.

We started teaching him sign language at 13 months old and it's been a godsend! It excites him so much that we can understand him!

Here's him at 15 months signing that he'd dropped food onto the floor. I was able to catch "food".


Note from Babies and Sign Team

Hi Maly!

Mason is absolutely ADORABLE!! Awwwww!! Thank you so much for sharing and inspiring others!

Keep it up and Happy Signing!!

MJ
Babies and Sign Language Team
Join in and write your own page! It's easy to do. How? Simply click here to return to Submit Photo Baby Sign!.