---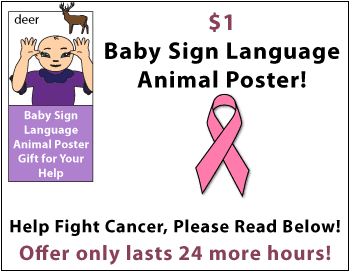 Hiya!
Thank you very much for reading this. I would like to offer you a chance to get a Completely Free Baby Sign Language Poster - Animal Signs Edition.
In short, and honestly, it is in the form of a favor. I have a VERY terrific friend named Bob. Bob is extra special, as he was given a second chance at life.
He was diagnosed with Cancer, and has beaten it (for a very long time now). He shows cancer patients how to get through and over cancer via specific fitness methods and tailored-fit exercise techniques. He's since been helping the city he lives in (Denver), his state (Colorado), the US, and the world fight cancer for more than 3 decades now. He's a terrific human and inspires all around him.
If you are new to this Baby Sign Language site and are not yet sure of our reputation - Just so you are certain that Bob is indeed a real person, his Facebook page is here: https://www.facebook.com/profile.php?id=100002814615941&sk=wall
Bob will be running the famous marathon in New York, the beginning of November, in the name of the Lance Armstrong cancer fighting association.
Would you please consider donating just $1 to Bob's courageous cause? He needs a total of $3,000 to qualify for this incredible marathon run, and if you have a look at this page: http://run.livestrong.org/teamls2011/bobwolfe , you'll see how far his donations have gone up so far, but he's only 3 days left to reach his donation amount so that he is permitted to run in the New York marathon. He has been working out extra hard for the past several MONTHS now, in preparaion for this special 26-mile run to help fight cancer for those special in our lives.
And in thanks, I would like to give a FREE BABY SIGN LANGUAGE color poster - animal signs edition - to those of you who donate even JUST ONE DOLLAR to Bob's cause. (Of course if you feel that you could donate even $3, that would help tremendously, but I am only asking for $1 from each person who feels led to help support the fight for cancer)
This free baby sign language poster gift will work in the form of an honor system. There is no way for me to truly know who has donated or not.
All I want to do is support and help Bob's courageous cause as much as possible: http://run.livestrong.org/teamls2011/bobwolfe
After donating $1, all you will need to do is head to this page: http://www.babies-and-sign-language.com/help-bob.html which announces "I've donated to help Bob Wolfe fight cancer."
Upon reaching that page, there is a simple box to enter what e-mail you'd like to receive the free baby sign language animal signs special edition poster.
After you type into the box where you'd like to receive your poster, you will be IMMEDIATELY sent a special coupon number with a special link to retrieve your free Baby Sign Language Animal Poster. When you click the link provided, all you will need to do is enter the special code number, and click the button that says 'update'. The product price will change into $0.00 and you can then immediately download it for FREE. As you'll see, this product is normally priced as $5.99. I am making this baby sign language poster free to anyone who donates to Bob's very special effort to help fight cancer.
This special coupon number will only work until Bob's donation amount has been met, or until his deadline of fundraising is finished (in three days from the date of this letter, which is Wednesday, October 12).
I am so grateful to you for even reading this long letter. Thank you again so much for taking the time to read this, and your consideration in helping Bob in his race to fight cancer.
For more information, here is a copy of Bob's letter below. He doesn't know (yet) that I'm setting up this campaign to help him achieve his donation amount requirement. [If I can get a photo of the surprise and appreciation on his face, I will surely ask him if I can post it here for you all to see!]. Anyway, his letter is below.
Thank you AGAIN for your time and for your consideration in helping Bob help support the Lance Armstrong Cancer Foundation.
In blessings and health,
MJ Williams
www.babiesandsignlanguage.com
_______________________________________
Hi MJ,

Thanks for forwarding the bottom of this email to anyone who you think would be willing to help support my run for the fight against cancer.
Peace,
Bob
*************************************************************
Many of you know me and my story but for those who do not know the entire story…
When I was 18 years old and a freshman in college, I noticed a lump under my left arm. With urging from my family I got it checked out. Little did I know that my life was about to change forever. I was diagnosed with Stage 4 Melanoma. Within one week of the diagnosis I was on my way to Memorial Sloan Kettering Hospital in New York for the first of four major surgeries. Within a 2 year span I went through the surgeries, chemotherapy, immunotherapy, clinical trials and radiation. As of March 2011 I have been cancer free for 35 years. This long battle has lead me to where I am today .
Now you understand why the fight against cancer is personal to me and I know it is personal to many of you too. I am celebrating my 55th birthday this year by running in the New York City Marathon with Team LIVESTRONG. I feel that by the grace of God, He has truly blessed my life and this is just one way of giving back.
I have chosen LIVESTRONG for many reasons one being this organization offers one-on-one support for survivors to help them face the challenges of cancer head-on. If you or someone you know has been affected by cancer, call 866.673.7205, Monday through Friday from 9 a.m.–5 p.m. CST, or visit LIVESTRONG.org/cancersupport.
Team LIVESTRONG represents 37 states and 17 countries. There are 28 million living with cancer today around the world. This is a chance for you to make a difference. Every donation counts and every donation makes a difference.
I am asking for your support on my journey to New York City on November 6th. Won't you please Visit my fundraising website
http://run.livestrong.org/teamls2011/bobwolfe, where you can make a donation online.
If you don't want to donate on-line, you can print off a donation form from my fundraising page
http://run.livestrong.org/teamls2011/bobwolfe and mail a check. Please be sure to write my Participant ID# 329894479 on the check.
Please help me celebrate my life as I train and run the New York City Marathon with Team LIVESTRONG. When I cross the finish line in New York, after running the New York City Marathon, I want you to be there -- in spirit or in person -- as part of my team!
You can follow my training on my Facebook site.
Thank you for your support!
Blessings
Bob Wolfe
---
So in short:
1. Please donate $1 (or whatever you feel led to donate)
2. Head to this page after donating: http://www.babies-and-sign-language.com/help-bob.html
3. Tell us where to send your Baby Sign Language Animal Calendar.
Again, THANK YOU!