Baby Sign Language Experiences Shared and Inspired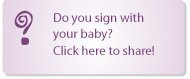 We love to hear all about your baby signing experiences!
Please share with us here, and enjoy the other stories that have already been posted so far!
Not a baby signer yet? Why do you wish to use baby sign language in the future?
Can't wait to read your story!