Calleigh's Milk and Play - Baby Signing at a Very Young Age
by Michelle Tancioco
(Philippines)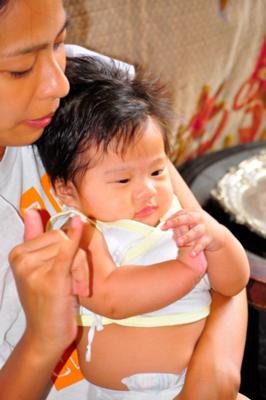 Teaching her the sign for play @ 2 months
I began teaching my daughter the baby sign language when she was one (1) week old. I started teaching her the sign for "milk" and "play". Even though she could not see clearly yet, I still make the baby sign for "milk" every time I feed her and "play" every time we play. Of course, during her 1st month I don't get any response from my baby. She just stared at me every time I was doing those baby signs.

During her second month, my husband and I were playing with our daughter and asking her to play with her toys while doing the sign for "play", we were so amazed when we saw her raised her hand and make the sign for play. It wasn't that clear yet but I know for sure it's the sign for play. And then after playing she started to fuss a little and then when I ask her if she wants milk while doing the sign language, she responded doing the same action. It was so amazing seeing her do the baby sign language.
Good thing we have our camera ready to capture that moment.
As parents we have always developed visual ways to communicate with our children before verbal communication has been possible. I find this baby sign language a lot easier to teach since infants/toddlers are communicating with us through their hands in their own way. It's just that its too difficult for us parents to understand what they want and then they'll start to cry.
Baby sign language reduces frustrations for the babies and parents as well. It also accelerates verbal development and strengthens cognitive skills. It enhances child-parent bonding through time spent teaching signs to our baby.
My daughter now is 6 months old, she babbles NON-STOP but sometimes you can hear her say "Hi" Mama, Dada, Papa or Milk (meek), she already understands the baby sign for "No", "More", "Mom" and "Dad" and "Sleep".
We absolutely love using baby sign language! Happy signing to all!